Blood.
Not everyone has the stomach for working with it, and no one is immune without taking proper precautions to the potential dangers it can pose if your job involves working with blood or potentially infectious material. Healthcare workers, custodians, maintenance staff, research personnel, and construction workers are just some of the employment groups that may be at risk of exposure to bloodborne pathogens and who may benefit from some excellent guidance to ensure their safety and that the organizations they work for comply with the OSHA Bloodborne Pathogens Standard.
What are Bloodborne Pathogens?
Although they won't, in reality, cause a zombie outbreak, bloodborne pathogens are infectious microorganisms in human blood that can cause disease in humans. They can be transmitted in various ways, primarily through coming into direct contact with infected bodily fluids such as blood. Scary, we know! Which is why it is important that organizations who deal with potentially infectious material (such as needles, blood samples, medical waste, etc.) and those with a higher risk of on-the-job injuries (such as in the construction industry) take the necessary precautions to safeguard their staff against preventable exposure.
What is OSHA's Bloodborne Pathogens Standard?
The Occupational Safety and Health Administration (OSHA) requires of organizations that have employees who come into contact with blood or other potentially infectious material, to comply with their Bloodborne Pathogens Standard, which involves providing employees with online training and instituting relevant safety measures. Such an endeavor is required to cover the following:
•    Definition of bloodborne pathogens;
•    Creating awareness about the means of disease transmission;
•    Identifying the potential risks to employees;
•    Identifying the specific employees at risk;
•    Instating protective measures to prevent exposure (e.g. protective clothing and equipment, and Hepatitis B vaccinations);
•    Developing exposure response procedures (e.g. through employing industry best-practice measures); and
•    Providing medical evaluations for employee exposures.
How Can We Ensure That We Comply with the Bloodborne Pathogens Standard?
Rather fuss over spilled milk than spilled blood. Compliance is made easy with a range of courses found in the Coggno course library, specially selected for their relevant and accessible content:
$23.00 per license
$12.95 per license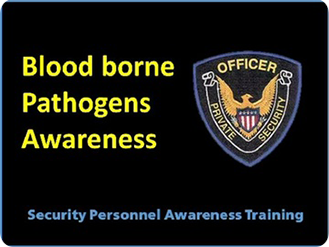 With an assortment like this, your employees, your budget and your peace of mind will remain unscathed!