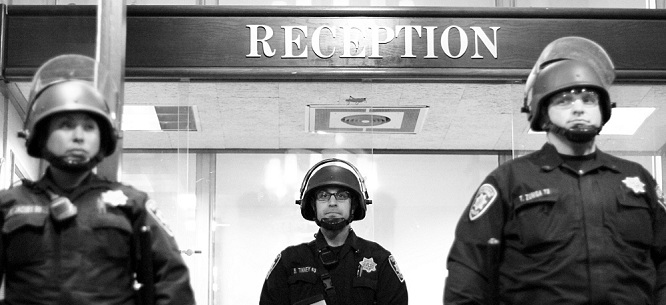 California's once prestigious public university system was a benchmark of educational excellence in the United States. If you were a member of the middle class in that state, you could count on a top-quality education for next to nothing, that would ensure gainful employment.
Today, because of conservative policy changes, budget cuts, and the sorry state of the American economy in general, California's university system is in peril. According to this eye-opening article, the universities and colleges that were relied upon for superior and affordable education, are almost as expensive as private institutions.
California's notorious student protestors have been railing against tuition hikes and losses and shrinking government funding for decades. The state blames former governor and president Ronald Reagan for destroying the public post-secondary education system, making it so inaccessible that it now relies heavily on out-of-state students to make up for financial shortfalls. This reliance has even shut out local residents, due to the fact that out-of-state residents pay much higher tuition.
At a time when post-secondary education is of the utmost importance in order for the United States to compete in the global economy, it is shameful that one of the country's most populous states has such an inaccessible system of public education. Institutions like UCLA and UC Berkeley were once considered among the top public universities in the country. Now, not only do they have to contend with shrinking budgets, they must compete with for-profit schools that promise the world to students who can't afford a quality education at a public university. The system has imploded, and the consequences are dire.
There are still students in the system who are angry enough to stage protests, or occupations as they are now called, to voice their displeasure with rising educational costs, and getting saddled with a mountain of debt upon graduation. The problem is, federal and state governments are not willing to meet these students halfway. Tuition still goes up, putting a quality education out of reach of most middle class students. The importance of a college education is still heavily stressed, but where are students supposed to come up with the money to pay for it?
There is an educational revolution going on in the United States right now, and while it won't render traditional universities and colleges irrelevant, it is certainly impacting their ability to attract students. Many who want to pursue an education simply can't afford to attend a traditional university, regardless of whether it is private or public. Students are, instead, looking for less expensive alternatives. Online education is one alternative for many.
We don't want to see California's or any other state's public post-secondary education systems become extinct. We do, however, want to see more emphasis placed on accessibility. It is important for American students to be able to pursue affordable, quality education, without being saddled with a boat-load of debt upon completion. We know there is a long, tough road ahead in order to accomplish this, but we do believe online training and education can help alleviate this crisis.
Read the article we've linked to; think about what it means for the future of education not only for California, but for the rest of the country. And then think about how you can take a more proactive approach to obtaining a quality education utilizing technology.