Compliance training online is convenient, user-friendly, and cost-effective.
This article will give you an insight into what to expect from online compliance training courses and how they could benefit you.
But first, let's understand the basics.
What is compliance?
Compliance is an integral part of any business, and it's one you should never take lightly.
This means you're following the rules—not just because someone told you to do so, but because it's the right thing to do.
It's about understanding what your company needs to do for its employees to be protected and its customers to be safe.
Moreover, it's about ensuring everyone who works there knows compliance is important, not just some buzzword thrown around at random company meetings.
What is compliance training?
Compliance training means different things to different people.
But, in general, it refers to the process of educating employees on the policies and procedures of an organization.
It helps employees understand their roles and responsibilities and the consequences of not being compliant with state laws and regulations.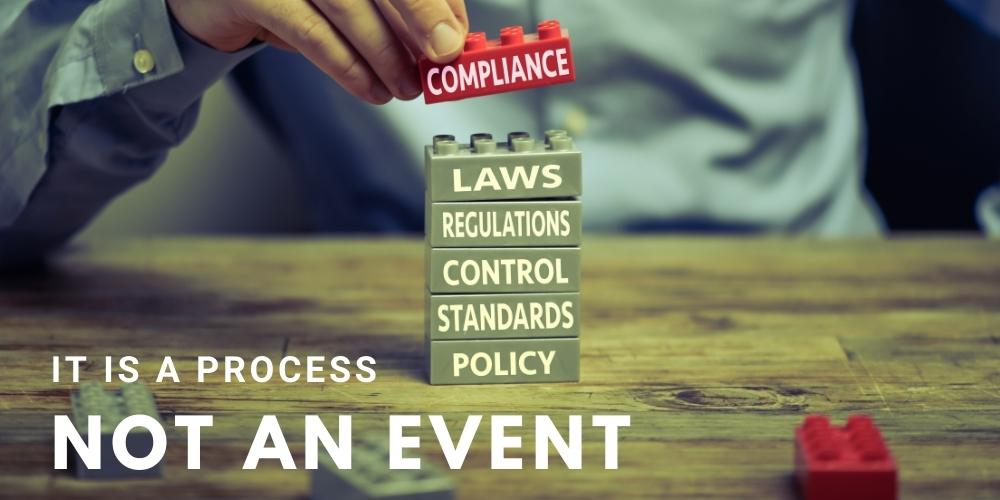 It is a process, not an event.
Compliance training is a process, not an event.
It is about identifying the risk areas in a company and then taking measures to prevent those risks from turning into non-compliance.
Compliance training is essential for an organization's brand and reputation.
Companies must understand their role in ensuring compliance with all laws and regulations that affect them and their employees.
In addition, it's also essential for companies to create abilities, skills & knowledge.
It will enable employees to prevent non-compliance situations from happening in the first place.
It increases employees' awareness
Compliance training aims to increase employees' awareness about their
duties;

rights;

responsibilities
towards the organization or, in the case of corporate compliance, to customers and clients.
The program helps this awareness along with abilities, skills & knowledge that will enable employees to prevent non-compliance situations.
What are the benefits of compliance training?
Compliance training ensures employees know the rules and regulations that apply to their jobs.
However, it can be as simple as providing an employee handbook or something more involved, like ongoing training programs to keep employees up-to-date on new regulations.
The following are some of the critical benefits of having an effective compliance training:
Reduced legal costs
Compliance training helps your business avoid costly lawsuits by ensuring that all employees know and understand their
rights;

responsibilities;

obligations regarding employment law.
It also helps ensure that your company complies with the law, which means fewer fines and less stress for everyone.
Improved employee performance
Employees who are well-informed and trained will be more productive and have a better understanding of their role in your company.
Furthermore, it can help improve overall performance, which is a win for everyone.
Reduced risk for legal violations
Compliance training can help protect your company from fines and penalties related to violations of laws or regulations.
Employees who understand and follow the law are more likely to do so consistently, which means fewer violations and less risk of fines or penalties.
Reduced stress
Compliance training helps reduce the stress on you and your employees by helping them understand their rights, responsibilities, obligations, and legal limits.

What are the different types of compliance training?
Compliance training is a broad term that covers any training a company needs to fulfill its legal requirements.
There are many different types of compliance training, but we'll go over the most common ones here:
Regulatory Compliance Training
This training is required for any company that deals with certain types of data, such as credit card numbers or social security numbers.
This training aims to ensure employees have the knowledge and skills to handle sensitive information appropriately.
Health & Safety Training
Health & safety training covers everything from using protective gear to handling hazardous materials at work.
This training helps keep your employee safe while on the job so they can focus on doing their best work without worrying about getting hurt in the process!
Diversity Training
Diversity training helps employees understand
how their own biases may affect others in their workplace;

how they can act in a way that's inclusive and welcoming toward all people regardless of race, gender identity/expression, sexual orientation, religion/spirituality, socioeconomic status/class.
Workplace sexual harassment training
Workplace sexual harassment training is a type of workplace training that aims to help employees understand
what sexual harassment is;

how it can affect them as individuals and their workplaces;

what they can do if they experience or witness sexual harassment.
It's often mandated by law for companies that employ 50 or more people.
The training teaches employees how to recognize situations
where they may be experiencing or witnessing workplace sexual harassment;

what actions they can take when they experience or witness sexual harassment;

how to report incidents of workplace sexual harassment so that they don't continue happening.
You might like: Respectful Workplace—What Is It And How To Build It?
Food & Beverage
The food and beverage industry is highly regulated.
Food safety is a big concern, and the government is constantly issuing new regulations.
If you work in this field, it's important to keep up with the latest food safety training requirements.
The good news is that all the training can be done online, so you can access it whenever it's convenient.
Related Food Safety Courses
OSHA & Safety Essentials for the Workplace
Occupational Safety and Health Administration (OSHA) is a government agency that enforces workplace safety standards.
OSHA compliance is required by law, and it involves many different aspects of protecting workers in the workplace. For example:
OSHA requires that all employees have training on how to safely operate equipment or machinery they will be using while working.
For example, it might be through specialized courses in OSHA safety training or other programs that help people understand what they need to do to protect themselves at work.
OSHA also requires employers to provide their employees with protective equipment when performing specific tasks or jobs.
For example, steel-toed boots might be necessary for certain construction workers.
They may also decide whether or not specific kinds of protective gear should be mandatory depending on the type of work being done by each company's employees.
It may sometimes mean providing such things as hard hats and eye protection goggles.
However, there are many different ways companies can comply with these types of regulations depending on what industry they're operating within."
Read Our Article: A Complete Guide To OSHA—Occupational Health And Safety Administration

How to build a compliance culture within the organization?
An organization's compliance culture is one where people are always thinking about
how they can keep the company in line with regulations and laws;

and what they can do to avoid breaking them.
It's where people feel empowered and supported in those efforts, so they're not afraid to ask questions or admit when they don't know something.
So how do you get there? It starts with training!
You must ensure that everyone at every level understands what compliance means for them personally and the company.
That means that everyone should have access to resources like training videos and manuals (on topics like data protection).
Furthermore, they must have an understanding of the goals and mission of the company itself.
Once your team knows what they're doing, they'll be able to start putting those skills into practice.
They'll know:
how important it is for everyone on staff to take care of themselves and each other when it comes time for annual reviews or performance evaluations;

accountability is vital when it comes time.
What is the purpose of the compliance training program?
A compliance training program helps companies avoid non-compliance with state or federal laws.
The primary purpose of a compliance program is to ensure that your company follows:
all applicable laws;

regulations;

policies; and

procedures related to healthcare services delivery.
The training program also allows employees to ask questions about any concerns they may have about their responsibilities about those policies and procedures.
It's important for employees to know what is expected of them so that they can perform their jobs effectively.
What can effective compliance training programs do?
Effective compliance training programs can do a lot of things, but there are a few that stand out as particularly important.
Understand why action matters
An effective compliance training program will help employees understand why their actions matter.
It tells people what they should be doing, why it matters—and how their role in the company contributes to its operations' overall success or failure.
Report wrongdoings
An effective compliance training program will also ensure that employees know how to report wrongdoing when they see it.
It empowers them to come forward when they see something going wrong within the company.
Acceptable behavior
The compliance program can help employees understand what behavior is acceptable and what will land them in hot water.
It can also help employees learn how to recognize when they've committed an offense or error.
How to take compliance training?
Online training is the perfect solution if you're looking for the most cost-effective way to train your employees.
It's also convenient and flexible so that it can be done anytime and anywhere.
Online compliance training is more interactive than traditional training, which keeps employees engaged throughout their online courses.
What compliance training courses does Coggno have?
Coggno offers a variety of compliance training courses to help you meet your organization's legal obligations.
Our online compliance training courses cover harassment, discrimination and diversity, employment law, and privacy.
If you're looking for harassment training online or an online harassment course, our team at Coggno is here to help.
We provide a tailored harassment training solution for your organization's needs.
Online Compliance Courses from Coggno
Our online compliance training courses include the following:
What are the benefits of choosing Coggno?
The following are the benefits of choosing Coggno:
Wide variety
Coggno offers a wide variety of online compliance training courses.
Availability
The courses are available 24/7 and can be taken from anywhere, making them convenient and easy to use.
Flexibility
They are also affordable, flexible, and customizable.
Multi-language support
Another benefit of our online courses is that they're available in multiple languages.
End Note
We hope this article has given you a comprehensive understanding of compliance training online and that you will be inspired to take the leap and enroll your employees to get their compliance training certification.
Coggno looks forward to helping you get started with your course!