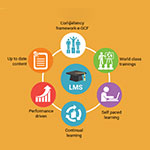 The Learning Management System portal was able to produce different short courses related to different fields – business, accounting, government, and even law. But, nowadays, more and more fields are using a LMS to deliver training and as a result, the continuing education in healthcare is made readily available through online courses as well.
Each and every single day, different discoveries related to medicine are being found, and progress is being made by science. It is important for nurses, and everybody in the field of medicine to be informed about these different advancements. Seminars were quite a wonderful way to do that. What if there is not time to attend seminars? Learning Management System programs are already available, vast in the market to make people's lives easier.
Okay, here's a deeper explanation, if you are still quite confused why it has to be continuing education courses. Although it is not necessarily required, it helps people in the field of medicine to take these short courses. It is indeed true; the knowledge that people have learned since college is required while caring for the patients. It is true that there are books to give information just in case you are lost. You may even refer to the Internet for latest health news. However, Learning Management Systems can now offer everything with a click.
Sometimes, these health and new science news does not cover everything that you need to know related to your field. Sometimes, the information given might be a bit vague, which may cause more confusion for you. But, with these learning courses online, more nurses would get the chance to have all the information that they need and sign up for continuing education short courses any time of the day.
It has been noticed universities that offer the continuing education short courses were able to produce registered nurses. Learning Management Systems not only provide great information or merely provide information that is not discussed through books. Online continuing education courses also increase the effectiveness of a student to pass the board exam – and gives further information to nurses who are currently taking up a Post graduate degree. Since the students and nurses can get the chance to choose the time that they can review these courses, it will be a lot easier for the information to sink in. And also, similar to short online training courses related to business, government, accounting and finance, continuing education via a Learning Management System also provides an interactive interface where everyone can go back to the previous discussions, and even answer all of the exercises provided.
It is indeed no doubt that these continuing education course plays an important role when it comes to providing recent information to nursing students, nurses and people in the related field – and relay all these information in an effective manner. Also, did you know that for those people who are trying to renew their nursing licenses, the continuing education courses are also recommended by most experts? It is indeed true; that there is nothing else more wonderful than the Learning Management System and more effective when it comes to continuing health care training courses.
——————
newbeta.coggno.com offers a wide variety of high-quality LMS platforms.