Food safety certification can improve your career prospects and get valuable hands-on experience.
The food industry is multiplying.
Furthermore, many job opportunities are available for those with a food safety certification.
What Is Food Safety Certification?
Food safety certification ensures that food is safe to eat.
Furthermore, certification is needed for all employees who handle food.
It includes everyone from restaurant owners to people who work in grocery stores.
Food safety certification training uses theoretical and practical information.
In addition to the above, it teaches how to keep your workplace safe from contaminants that could make people sick or cause serious illness.
Furthermore, it will also help you learn about the following:
cleaning tools;

storing foods;

proper sanitation techniques; and

identifying workplace hazards
Read a detailed article on Food Safety Certification by clicking here.
Overview Of Food Safety
Food safety is the science and practice of minimizing the risk of foodborne illness.
Foodborne disease results from consuming contaminated food or water.
It can include bacteria, viruses, parasites, or chemicals in food sources.
WHO estimates that every year about one in 10 people suffer from a foodborne illness.
There are 76 million foodborne illnesses in the United States each year.
It results in 325000 hospitalizations and 50000 deaths.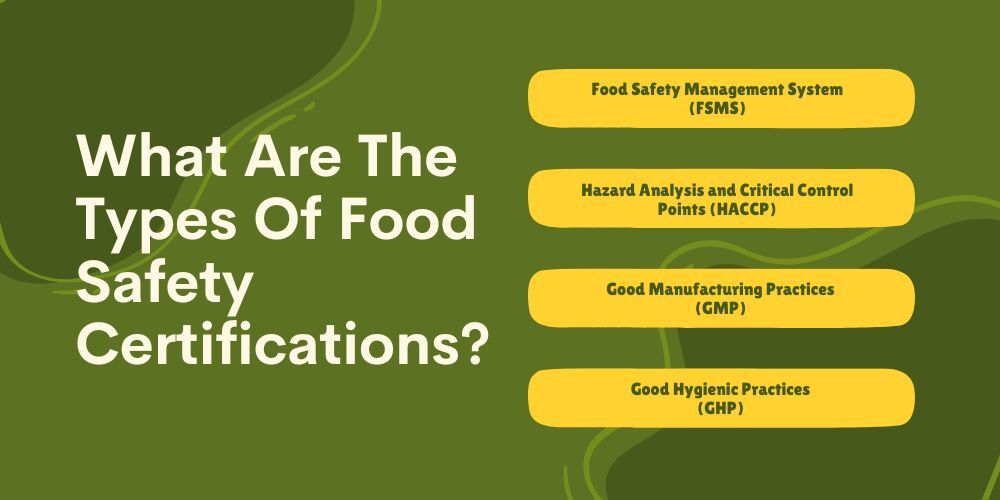 What Are The Types Of Food Safety Certifications?
Food Safety Management System (FSMS)

Hazard Analysis and Critical Control Points (HACCP)

Good Manufacturing Practices (GMP)

Good Hygienic Practices (GHP)
There are several food safety certifications.
But they're all based on the same concept: preventing foodborne illness.
Further, the FSMS certification focuses on the systematic approach to identifying risks within a facility.
It also focuses on implementing steps to cut or mitigate those risks.
HACCP is another popular certification.
It uses scientific methods for documenting key points in production processes.
In addition, it helps identify factors that could lead to contamination or spoilage of food products.
GMP covers basic sanitation principles. It ensures safe handling practices at every production stage.
Furthermore, GHP focuses on how employees interact with one another and customers during service hours.
How To Become A Food Safety Certified Professional?
Food safety certification is a lifelong process of learning and gaining experience.
It is a voluntary process of self-improvement through continuous improvement.
So, if you want to become a certified food safety professional, start by taking some basic classes in food safety 101 from Coggno.
Then you move on to more advanced courses from Coggno.
Advanced courses will teach you about the following:
Specific food preparation; and

Handling types include restaurant management or cooking classes at the community college.
You might want to know: Food Safety Culture — What Is It And Why Is It Important?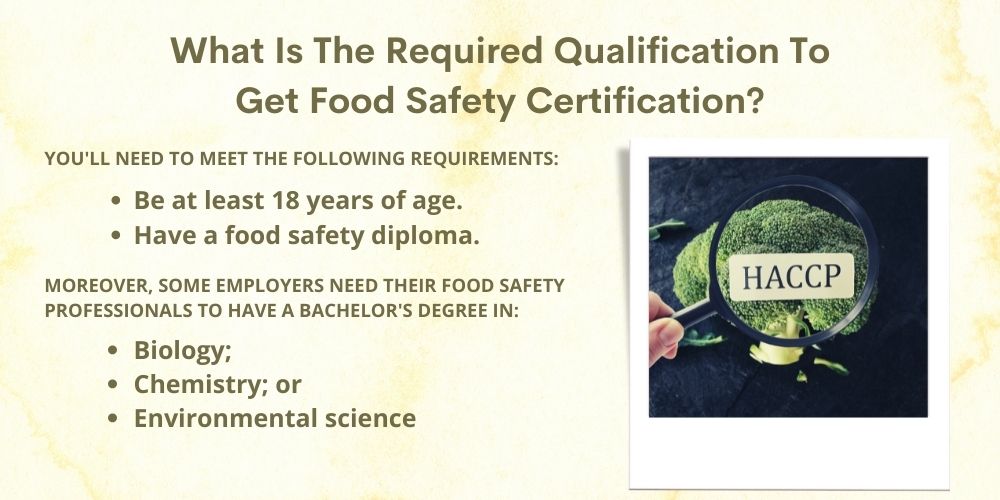 What Is The Required Qualification To Get Food Safety Certification?
You'll need to meet the following requirements:
Be at least 18 years of age.

Have a food safety diploma.
Moreover, some employers need their food safety professionals to have a bachelor's degree in:
Biology;

Chemistry; or

Environmental science
Yet, it's unnecessary for these positions.
Certification shows your knowledge and skills in the field.
It also helps you get hired by employers who want someone with expertise in this area.
Further, certifications give you access to resources such as job boards and career fairs.
It is where hiring managers are looking for qualified candidates like yourself.
How To Get A Food Safety Certificate?
A food safety certificate is a mandatory document for all food businesses.
The state health department issues it.
It helps ensure that your food business follows the required standards.
Furthermore, the health department conducts regular inspections.
And they may revoke your certificate if they find any violations.
So how to get food safety certification?
You will need to contact your local health department and request an application form for a food business permit.
You can also visit their website and download the form from there.
Fill in all the details they requested;

Attach copies of necessary documents;

Pay any applicable fees; and

Submit it at their office.
Once they receive your application form, they will issue you an inspection date.
They will then visit your place to check if you meet all conditions according to regulations set by state laws.
Once this happens, they will mail your certificate via postal mail or courier service.
It depends on the method used during the submission time.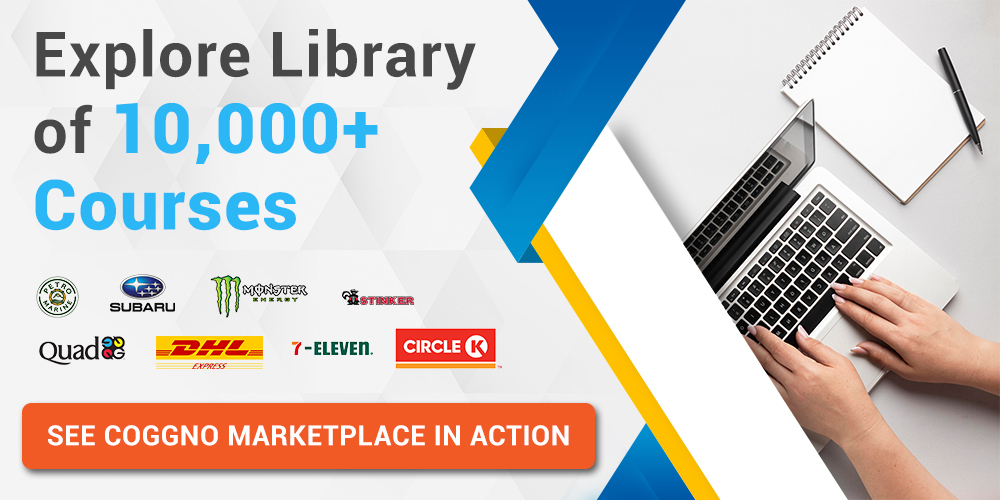 How To Get A Food Safety Certificate Online?
You might want to get your certificate online.
But in the end, it's all about convenience.
Finding time to attend classes in person can be difficult when working with a busy schedule.
And that's where online learning comes in!
The internet offers many opportunities for people looking for ways to learn from home or on their own time.
Furthermore, online courses can help you with the following:
Develop new skills;

Improve existing ones; and

Make connections that benefit your career.
If you're interested in getting your certificate online, here are some things we recommend:
Ensure knowing what kind of certificate or degree program you need before starting your search. It will help you find the right course/training for your needs;

Find out if there are any requirements for taking an online course. For example, completing an application form or submitting official transcripts;

Check out reviews from other students who have taken this course (Coggno will let you see both);

Ask if any special requirements are specific to your areas. For example, a background check, drug screen or food safety certification test.
What Are The Benefits Of Having A Food Safety Certification?
The following are the benefits of having a food safety certification:
Food safety training program helps you improve your professionalism and knowledge.
Further, it will make you more confident in the workplace, leading to higher job satisfaction.
Food safety certification gives you more opportunities for advancement and better paychecks.
Professional certifications attract employers seeking high-caliber candidates with proven skills and expertise.
Improved Health And Safety
As a food safety certified professional, you know proper practices reduce the risk of contamination from pathogens like E. coli or Salmonella.
You'll also be able to identify unsafe conditions, such as temperature abuse or poor hygiene practices.
It will further help you guide workers around food-handling surfaces so that they also follow safe practices.
Improved Customer Service
With these new skills under your belt, customers can expect nothing less than superior service.
They further know you're someone who knows how important food is for your customer and their family's health.
Read Related Article: The Importance of Food Health and Safety Training For Your Staff
What Is The Average Salary Of A Food Safety Certified Professional?
The average wage for a food safety-certified professional is $46,000 to $55,000 per year.
However, this varies based on your certificate type and your experience level.
For example, if you only have an entry-level certification, you will probably make less than someone with a more advanced certificate.
The salary may also vary depending on where you work: federal vs. state vs. local agencies.
Other private companies also offer different pay rates for food safety professionals with similar levels of training and experience.
In general terms:
Food Safety Certified Professionals who work at agencies such as the FDA or USDA make more money than their counterparts working in other industries (such as restaurants). Their employers can pay higher salaries because of larger budgets from government funding sources.

However, this is only sometimes true. Many large corporations also have well-funded departments dedicated only to food safety initiatives which means they can offer competitive salaries too.
So, if you're interested in becoming an executive-level manager within your field, look into getting certified through Coggno!
We'll help guide aspiring managers with food manager certification.
Moreover, the certification will help managers through all stages, including:
Hiring processes;

Managing employees' performance evaluations;

Creating policies regarding workplace diversity issues; and

Maintaining efficiency within operations
Enhance Your Food Safety Knowledge Using Self-Paced Online Training Courses
You can now enhance your food safety knowledge using self-paced online courses.
These courses are easy to understand, interactive and give you real-life experiences.
Course Recommendation For Food Safety Certification
Click here to check the entire range of food safety courses from Coggno.
You will learn everything.
From the basics of food safety to more advanced topics like HACCP and sanitation guidelines.
The courses are available 24 hours a day, seven days a week, so that you can fit them around your schedule.
Our courses also cover all areas of food safety, including:
Temperature control;

Storage issues; and

Employee training requirements.
End Note
Food safety is an important topic every food professional should know.
The certification process takes work.
But it will help you gain knowledge and skills that will last a lifetime.
By choosing the right course, you will get certified in no time!