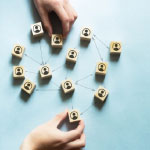 Mike, a college friend of mine, is in a tough situation to which eLearning and LMS online courses could be the answer.
When Mike returned from his two years in Africa working with the Peace Corps, the economy was in shambles and he couldn't land a job. A few weeks ago the press found him standing on the corner of 13th and G streets with resume in hand, dressed in a new suit and a sign around his neck saying: "Will work for job."
"I'm looking to start working professionally and I'm tired of searching on the internet for jobs" he told NBC news. "I have a bachelor's in physics and I spent two years in the Peace Corps."
It hasn't been a smooth year for Mike and many others. No matter what point in your life you're at–be it quarter-life, mid-life or somewhere in the middle–you may be finding it necessary to review your options and goals, and reassess your professional direction.
Increasingly colleges and universities, technical schools and institutes offer LMS online courses. These provide students certifications or degrees, or supplement face-to-face learning. Partly due to the recession and an exceedingly competitive job market, all kinds of people are more actively seeking out LMS online vocational degrees.
What exactly is a vocational course?
Vocational courses are related to a particular skill or kind of work. In a vocational course, students complete a series of tasks and assignments which prepare them for real work experience.
Vocational certification programs may include employment areas like social care, health care and childcare; hospitality and catering; leisure and tourism; media and design; construction; business; information technology; and animal care. As you can see, vocational courses traverse a vast landscape of professional possibilities.
When searching for an LMS online vocational course that's right for you, talk to current or former students who completed the course. Find out whether or not the course included dynamic and practical lessons, strong tutorial support, and qualified professors. Ask specific questions related to your vocational interest and get answers before you begin the online course.
When choosing an LMS online vocational course, of course, practice caution. Think about it: 70% of all post-secondary technical and vocational training is provided by privately owned institutions. Given this, there are some dangers to watch out for–like diploma mills, or non-accredited, fake organizations that sell fake diplomas.
While many buyers who pay for fake degrees do want them to trick employers, many are scammed by fake institutions. In general however, students have an easier time than employers in discovering that an online institution is actually a mill.
Ways to spot a diploma mill range from the obvious (such as blatant offering of a fake diploma) to more subtle clues.
Often no teaching facilities, libraries, personnel, publications or research are available. Promotional literature about the institution may contain grammatical and spelling errors. The website might even display a sample diploma to tempt buyers.
Names of diploma mills are often very similar to well-known and reputable institutions.
Study the organization's website and note its advertising strategies. If you feel a sense of urgency in the website's advertising, it may be a mill. Oftentimes prospective students are encouraged to enroll immediately, before tuition or fees are increased, or told that they qualify for a fellowship, scholarship or grant.
Always do your research before committing to an online vocational program. If you find yourself pulled into a diploma mill, you may be able to realize before it's too late and pull out.
Online vocational courses from recognized and accredited institutions can start you on a path to a new career in which financial woes and instability are issues of the past. LMS online vocational certification programs are available in a wide range of career fields, and their self-paced format is designed fit to your life.
—————
newbeta.coggno.com offers high-quality online education.