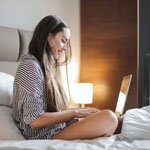 More and more people are looking into not only online and LMS-hosted courses, but also two-year colleges, which are an increasingly attractive option for tight budgets. According to a Reuters article in yesterday's paper, thousands of people–many laid-off or jobless because of the recession–are flocking back to retrain at more than 1,100 community college learning systems across the country.
High school seniors are also making tough choices. The annual Princeton Review survey, which polled over 15,000 students and parents, was released yesterday with a sober report on the mental state of soon-to-be college students.
According to the report, over two-thirds of high school seniors have experienced high levels of stress over higher learning system admissions, and claim the economic downturn has directly influenced where they applied. Thirty-eight percent of polled students applied to colleges with lower tuition than they would have otherwise. And nearly nine out of ten respondents said financial aid will be essential to their attending a higher learning system.
————-
newbeta.coggno.com offers high-quality LMS platforms.