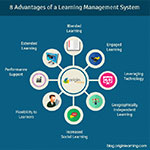 Though using VoIP providers in a small or medium business LMS probably won't completely replace normal phone system use, it will add more features, quality and fluidity to the organization. VoIP providers are superior to regular phone systems for many reasons, including cost-effectiveness. For small and medium businesses, there are a handful of specially designed VoIP providers that can enhance productivity and LMS efficiency. These include Adtran Netvanta 7100, Nortel BCM 50, Cisco SBCS, Fonality PBXtra, and Avaya One-X Quick Edition.
Adtran Netvanta 7100 is relatively cheap, easy to use, and great for small businesses. Nortel BCM 50 is a more complex system including a series of applications like unified messaging, call-center, conferencing and paging. This and Cisco SBCS are robust systems that are not very simple to use. Fonality PBXtra and Avaya One-X Quick Edition are both simple and easy for LMS users of all skill levels to manage.
———-
newbeta.coggno.com provides premier online training courses.