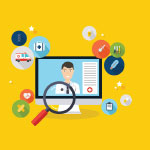 For many reasons, a learning management system course may be your ticket to success this year. For starters, you may be one of the thousands of Americans either worried about your job security or still seeking a full-time position. If the former is your case, you may be taking steps to strengthen your position in your current job.
To increase your value as an employee and ensure job security, pursuing online training to gain fresh and relevant skills is an effective strategy. However, there are other subtle ways to communicate your value as an employee to your superiors.
Find ways to remind your supervisor of your contributions to your company. What are you doing in 2010 and/or did you do in 2009 for the company's long-term benefit? Remember–anyone is expendable. Give your boss more than one reason to believe that losing you would be detrimental to the betterment of the company.
Put yourself in the center of the company's business activities; now is not a good time to be on the sidelines. Take a look at your strongest skills or areas in which you have considered developing professionally. Then, resolve to use some of your spare time to improve on those skills and apply them to your daily workflow. Look into online training courses either offered by your business, or on your own via a learning management system or other medium. Shadow a colleague. Go the extra mile; come in early; stay later; be more productive during the work day.
Most importantly, be willing to learn the skills required to fill whatever need you see in the organization. Be the one who steps up to the plate and takes initiative. Now is your time to work on your image at work and create a better reputation for yourself. Show off your and get serious, giving the impression of being efficient and productive.
Part of getting serious is changing negative behaviors that have become habits. One all too common habit in the office is complaining. Check yourself on this habit and adopt a more positive outlook. Make a coin jar that you have to drop a dollar into each time you catch yourself complaining at work. If gossiping is another of your bad habits, include this in your habit-breaking resolution.
Now is the time to become the kind of highly skilled professional you are capable of becoming. When considering taking online training or learn new skills, look at the numbers from December and consider yourself lucky to have a job in the first place. Last Friday the Labor Department reported that the U.S. lost 85,000 jobs from the economy in December. And most economists safely assume that the unemployment rate, which was steady at 10 percent throughout December, will probably only worsen in the following months.
However, perhaps you fall under the second category mentioned in the first paragraph–the unemployed or underemployed. The underemployment rate, which counts people who have given up seeking employment or people working part time for lack of full-time positions, is at 17.3 percent, nearly double the unemployment rate.
You may be one of those people who were considering a job change or a career shift, but were caught by the recession in a position you weren't happy with. Now is not the time to sit on your hands and regret not having acted sooner. Online learning is a great option for a fast and cost-effective way to learn new skills and prepare yourself for a change in career. Pick up applicable job skills by taking a course in conflict management, customer service, diversity, or communication. Learn how to coach, start your own business, or perfect your English.
The self-paced nature of many online training programs and learning management system courses allows you to keep your present job while working towards placing yourself in a position to land a better fitting job in the future.
—————–
newbeta.coggno.com offers premier online training courses.