Over recent years, there has been a drastic change in the corporate world, with businesses embracing more effective goal-oriented training programs. These changes can be attributed to technological changes, the growing demand for a more satisfying work-life balance, and employees' physical and mental well-being.
Also, the need for more suitable corporate training programs has increased, with employers looking for new and more convenient ways to engage their employees and effectively transfer knowledge and skills to boost organizational efficiency. As a result, L&D experts have been on their heels seeking to implement more effective training programs to match the current work environment dynamics.
Evolution of corporate training platforms for employees
For the longest time, employees learned on the job or through apprenticeship. However, this informal learning was gradually replaced by instructor-led learning. In the modern world, there are three approaches to corporate learning and development (L&D): synchronous, asynchronous learning, and a combination of both models also referred to as blended learning.
The synchronous model is the traditional classroom form of learning where an instructor guides learners, virtually or in person. The asynchronous approach is more modernized and relaxed, and employees acquire knowledge and skills independently at their own pace.
All these forms of employee training have been immensely integrated with technology in online training platforms for employees, increasing their effectiveness, reliability, and convenience for organizations and staff. More specifically, during the 2020 pandemic, the traditional forms of service delivery were altered entirely as the world embraced remote ways of engaging employees and doing business.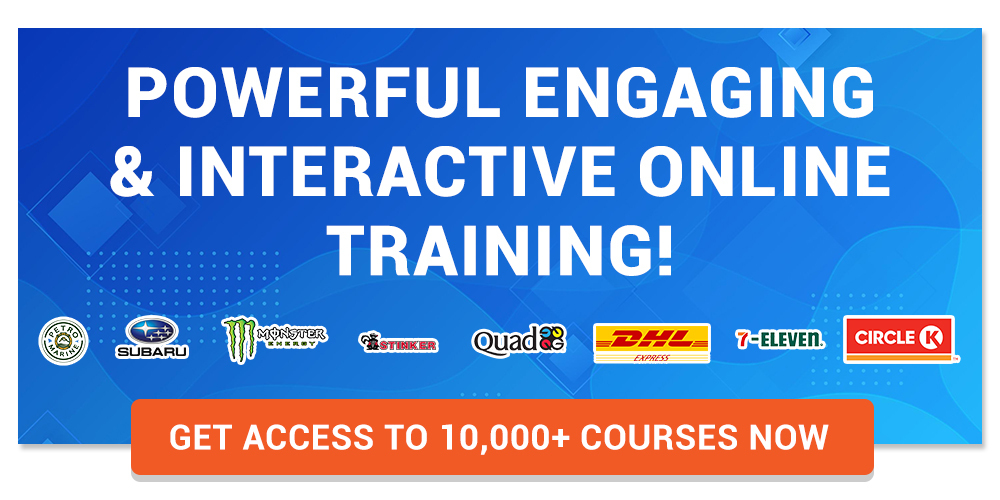 Related article: How to Engage Employees with Online Training Courses
What are the changes in online training platforms for businesses?
The need for e-learning at the workplace is continually growing as businesses seek to embrace technology and flexibility and limit resource use. In an aim to meet the existing gaps and enhance their services, online corporate training platforms are also changing their content delivery techniques.
Here are the current trends in training platforms for businesses:  
Microlearning
This model is focused on employee well-being by preventing cognitive overload. Paid and free online training platforms apply the microlearning technique by delivering knowledge in bits. Each module is short, covering a specific objective within a few minutes. As a result, microlearning improves employees' focus and increases retention of information by 80%. Also, it is 17% more effective than other learning methods, improving a learner's engagement from 15 to 90 per cent.
Personalization
Trainers are now providing more customized online training programs for employees to meet the specific needs of companies and staff. 77% of L&D experts believe that personalization boosts employee engagement, with 94% of businesses attributing it to business success. Personalization is enhanced through the involvement of the management and employees in defining the training objectives based on the existing knowledge and skill gap. As a result, businesses have exploited corporate training as an opportunity to retain staff instead of hiring fresh talent. Also, employees can focus on specific training that best suit their roles.
Just-in-time training
Just-in-time training strategy refers to an online training strategy whereby information is availed on demand allowing employees to access training information around the clock. It focuses on expanding knowledge and helping improve an employee's performance by answering specific questions they may have. Studies suggest that 40% of knowledge acquired through training is lost within a month's break and 90% after six months. Also, 40% of employees don't transfer the skills acquired in training immediately. For this reason,  with just-in-time training, staff can use the information to handle challenges in real time.
Must read: How to Create Custom Online Courses for Employees?
Mobile-friendly training platforms
People are increasingly using their smartphones to perform the same tasks they do on their work computers. Consequently, creating multi platform-friendly content and platforms allows employees to learn on the go, anywhere, anytime. Studies carried out by Google suggest that 80% of the world's population uses smartphones, with 27% using a mobile phone exclusively and 14% using computers. In addition, the statistics of millennials (who make up most of the working population) using smartphones go up to 97%.
Gamification and games 
These learning strategies apply real games with educational value and other gaming techniques to motivate learners to keep going. In addition, gamification uses rewards such as badges as extrinsic motivators to help achieve the training goals. Some studies in a learning environment suggest that gamification increases students' performance by 34.75%. Also,  the use of gamification in institutions of higher learning is anticipated to grow by 15.4% between 2019 and 2024, with L&Ds looking for ways to incorporate artificial intelligence in corporate training programs. 
The adoption of hybrid learning
Hybrid learning is a training solution that combines classroom and online learning. This model has been growing in popularity as businesses are now more than ever realizing the value of remote work plans. Some statistics show that 34% of large and 25% of medium companies consider blended learning favorable.
Even as staff return to their workstations post-covid crisis, companies continuously embrace the benefits of working remotely, with some employees working from home several days a week. While a majority are still for the traditional training methods, the availability of online training platforms for corporates has made it possible for them to incorporate these remote teams into their development programs.
Hybrid learning benefits the business and employees by ensuring accountability and flexibility. In addition, this flexible and blended learning offers more enhanced student engagement, with most employees growing up during the technological era of smartphones and the use of apps. Finally, the various learning forms allow various teaching techniques to break the monotony and enhance knowledge transfer.
You might like: What Is A Learning Management System?—Everything You Need To Know
Final thoughts
Technological advancements, changes in the work environment, and business needs have made it necessary for L&Ds to develop new training techniques. Also, the current generation has a different outlook on training programs, with more employees now excited over training opportunities. All these factors have immensely affected the delivery of content and the need for organizational training. As a result, training programs are now more blended, offering varied choices for optimized impact.