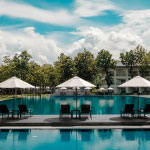 Interested in a new technological experience on your business trip? Or maybe you're bringing along your children or spouse, who have no interest in your LMS or conference calls?
These days hotels are offering much more than wi-fi and public computers for access to VoIP, email, online courseware and LMSs. Westin, for example, has teamed with Nintendo to provide its fitness centers with Wii consoles and games like Wii Fit, a game that uses a balance board to guide players through exercises and yoga poses.
Smaller hotels are also working with technology companies to outfit their lounges and guestrooms with the latest electronics. The Gansevoort Hotel Group has partnered with Sony, and its lounge will have Sony computers and PlayStation 3 game consoles, as well as eBook readers and cameras. With super-equipped hotels like these, maybe you can forget momentarily about LMSs or conference calls, and just have some fun.
———
newbeta.coggno.com offers high-quality e-learning courses.