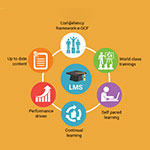 Picture it: you're a student on your first day of a history course. Printed on the syllabus is an advertisement for a local Mexican restaurant, El Diablo. An El Diablo sticker is also clipped to the syllabus, which reads "The Americas: Conquest to Capitalism." This class is sponsored by El Diablo, your professor says. Before presenting learning content, he flashes the restaurant logo on the overhead projector.
Sound crazy? Kyle Volk, assistant professor of history at the University of Montana, came up with "a witty way to draw attention to the plight of this history department" until the university stopped it. Last June, the department ran out of paper and toner for the copying machine, forcing professors to finish the semester without printing learning content or making copies. With the rising cost of school supplies and learning content material, it's no great wonder many schools resort to advertising deals.
—–
newbeta.coggno.com offers high-quality LMS platforms.