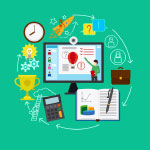 What about learning management system users who depend heavily on their cell phones for communication? Depending on your company or organization, this type may constitute a large part of your learning management system user base. One obstacle is that most cell phones work on GSM networks, while VoIP uses exclusively internet technology. However, with the rising use of smartphones, more and more people have internet capabilities on their cell phones.
Mobile VoIP has all the benefits of software-based services, added with heightened portability. The cons include high prices of smartphones, often poor call quality, and the need of a data plan or a wireless network. However, for some learning management system users with busy lives, and who have mobile access to the internet at all times, mobile ViOP is ideal.
———-
newbeta.coggno.com offers premier e-learning education.