Want to know about private LMS? If yes, then keep on reading!
Learning Management Systems (LMSs) are everywhere. They're built into the websites of most universities, and they're also used by businesses to manage employee training.
But what if you're not a university or a large corporation? What if you're trying to learn something new?
In that case, it makes sense to use a privately owned LMS instead of something built for education or business.
Read Related Article: What To Look For In A Learning Management System?
What Is A Private LMS?
A privately owned LMS is precisely what it sounds like: a management system designed for individuals rather than institutions. It's all over the place, from LMS systems for schools to LMS systems for sole business. 
Even better, these systems don't have anything special besides offering one-on-one courses instead of group instruction.
However, there are plenty of reasons why they may suit your needs!
Let's discuss it in detail.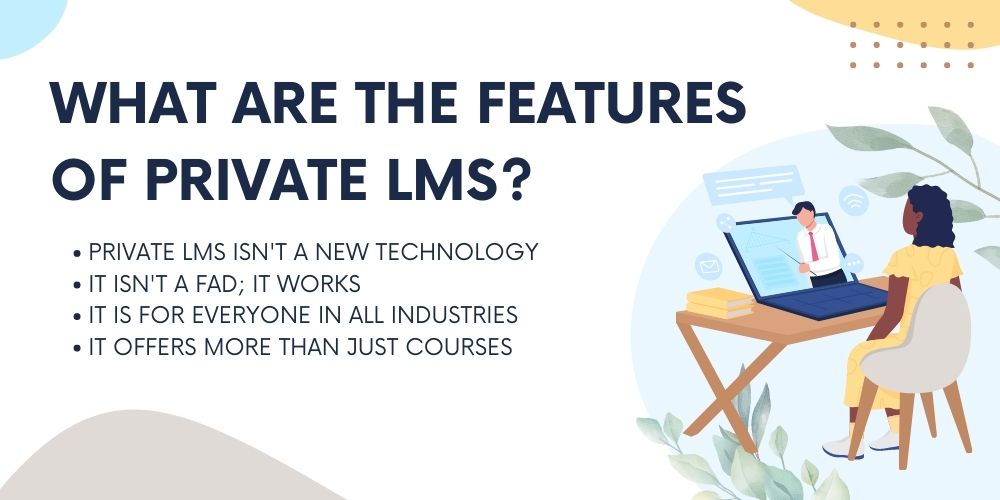 What Are The Features Of Private LMS? 
The following are the features:
Private LMS Isn't A New Technology
LMS is not a new technology; they have been around for quite some time. Initially, LMSs were used in corporate training and then evolved to support online learning, but they have always been based on open standards like SCORM and AICC.
An LMS is a web-based application that helps educators build, deliver, and track employee training. It can provide online courses—either built from scratch or pulled from the LMS vendor's library of templates.
It is used to track training compliance and provide self-paced eLearning modules. In addition, the LMS acts as an online portal where employees can access their coursework and submit assignments.
It Is For Everyone In All Industries
The private learning management system (LMS) market is growing fast. For a good reason: It's an excellent way to create and deliver high-quality training content that employees want to access.
However, most companies still consider LMSs as tools only for big businesses with a lot of money to spend on training programs. For this reason, they don't consider using them—but they should! No technical or budgetary reason why any company can't use an LMS to train its employees at lower costs than the "big" ones.
Today dozens of vendors offer everything you need to implement your program: mobile apps (Android or iOS), easy learning paths with skill assessments at every step along the way; video hosting options; collaboration tools; reporting capabilities, etc.
It Offers More Than Just Courses
In addition to the eLearning content, an LMS will allow you to manage your employees' training, assessments, and certifications. This is extremely useful because it gives you a way of tracking how well each employee does on their training and certifications.
You can also check in on them at any time to see what they're working on or if they need additional help.
Read Related Article: Four Features of a Great LMS | Blog – Coggno
What Are The Benefits Of An LMS?
The benefits of an LMS are numerous:
It allows educators to create high-quality content with relative ease;

Educators can customize it based on the needs of their organization;

Educators can track learners' progress through reporting features;

LMS provides analytics on learner engagement.

Why Introduce An LMS In Your Organization?
A robust LMS is an efficient method for training new employees. LMS software solutions include all the resources required to build and deliver virtual training courses to employees, partners, clients, or anyone who needs to brush up on complex topics. It helps in:
An LMS is an excellent pick for businesses looking to connect their team and share data without the fuss of calendar invites and meeting schedules.
Training and educating via LMS eliminates employee travel, streamlines training expenditure and utilization, and reduces facility and instructor compensation. An LMS is a no-brainer in terms of cost savings.
Thanks to the centralized nature of an LMS, training and course delivery are uniform. It ensures that all employees receive consistent training and learning effectiveness by centralizing content, teaching materials, and guidance.
Track Progress And Performance
LMS enables businesses to produce training reports quickly. Trainers can easily evaluate progress towards goals, expertise, and ROI using an LMS for eLearning courses.
Read Related Article: How to Choose the Right LMS for Your Organization [Infographic] | Blog – Coggno
What Industries Use LMSs?
LMS is used by companies of all shapes and sizes, including:
Corporate Organizations

Health Care

Government Agencies

Higher Education

Consulting
Coggno LMS fits every business need, size, and budget
What LMS Do You Need—Professional Or Enterprise?
Depending on your business's needs (and lack thereof), you can choose between a professional or enterprise LMS.
A professional LMS will suffice if your business requires employee, vendor, and client training.
If you are a large organization looking to maximize the benefits of formal, informal, and blended training, you should explore an enterprise LMS.
Coggno LMS—professional or enterprise— allows multiple user access simultaneously without getting bogged down. Coggno can provide both LMSs upon request. Our LMS comes with standard features like branding and technical assistance.
Read Related Article: How to choose the right Learning Management System (LMS) 2022?
What Is Coggno Private LMS?
Coggno's Private LMS is a customized solution that is the foundation for managing all facets of the learning process.
Our best LMS eliminates the need for training sessions to occur in the same place simultaneously. It helps employees improve their abilities and enable recruits to onboard virtually.
Moreover, our LMS streamlines the identification and assessment of individual and organizational learning objectives, monitoring performance toward those objectives, and storing and presenting data for monitoring the learning process.
Why Is Coggno A Leading LMS Company?
We are a leading LMS provider recognized by industry experts for convenient solutions and excellent customer service.
We make it easy for you to offer, manage, and track your training by only providing the training you need.
Additionally, we assist business leaders in encouraging consumers, vendors, employees, and other key allies to flourish through interactive online training courses.
Using our LMS, you can enhance the learning experience for your team and make training more entertaining and interactive. In addition, our training program is compatible with all types of PCs and mobile devices.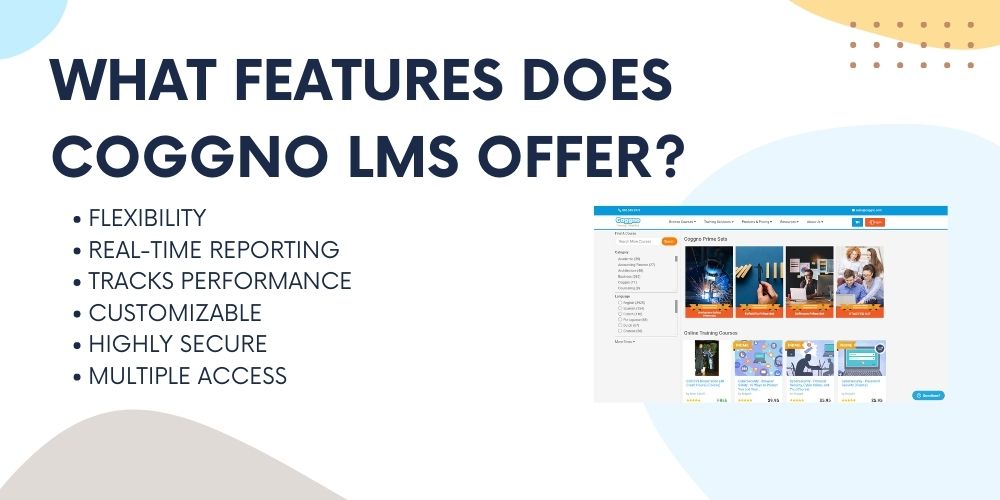 What Features Does Coggno LMS Offer?
Our LMS solution offers the following features:
Our LMS benefits employee training, onboarding, virtual classrooms, and compliance training.
We tailor the LMS to meet the requirements of your courses and provide unlimited training content with real-time reporting.
Our LMS keeps track of and analyzes learners' progress and course performance.
The LMS customizes your platform with white-labeling options ranging from custom colors and logos to automated personalized mailings for each user.
It features robust integrations and is entirely secure. Additionally, it offers multilingual interfaces for improved communication.
Multiple audiences can be trained using sub-platform hierarchies.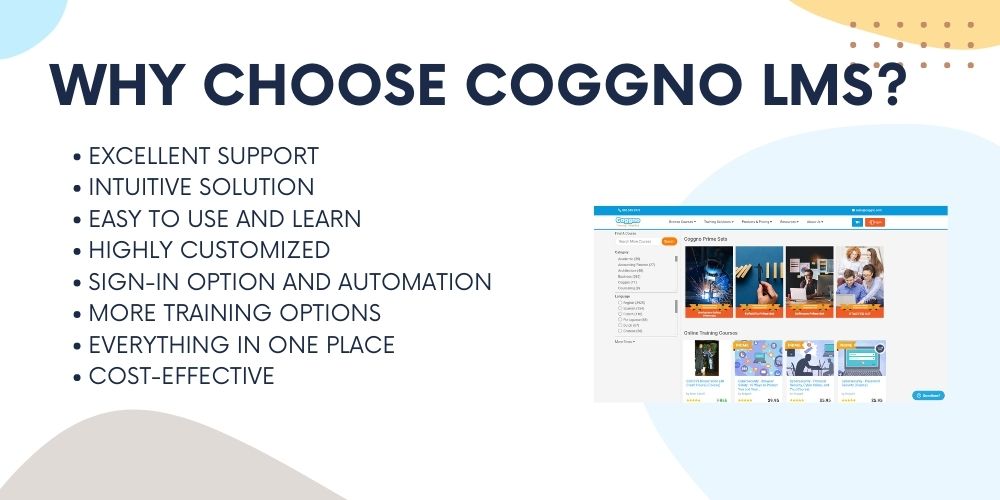 Why Choose Coggno LMS?
The features and functionality of Coggno LMS make it easy to offer the same excellent training experience for any given situation.
Quality training requires ongoing support. Our customer support professionals work alongside you, providing unmatched expertise and ensuring that each project reaches its goal.
Our LMS setup is simple, allowing you to start quickly and autonomously. No technical assistance is required.
Learners can quickly immerse themselves in the training experience and stay because it is easy and fun to use—whether on a PC, tablet, or smartphone.
We offer dozens of customization options to ensure that the experience is tailored to the needs of each team and learner.
Sign-In Option And Automation
We offer several sign-in options and extensive automation to reduce admin time and help you manage without a fuss.
We provide additional training and development opportunities for your teams without requiring you to create everything from scratch.
With all training tools and materials gathered in one convenient place, you can deliver the same excellent training experience to any team and in any situation.
We provide all the functionality you require at a fraction of the cost. All plans feature functionality for creating courses, customization, branding, implementing blended learning, managing advanced users, and conducting in-depth reporting.
Give training your best shot with Coggno LMS. Then, start a demo to see how our LMS gets everyone to say 'yes.'
Key Takeaway
The private LMS revolution is just getting started. It allows you to create and share your content with others. They're straightforward to use, even for non-technical people.
It's an exciting time to be a part of this industry, but don't wait too long before you start exploring the possibilities of an LMS for your business or organization. The benefits are too great to ignore!
Explore Coggno free LMS by clicking here.
Frequently Asked Questions
Questions about the LMS can come up at any time. But don't worry. We have all the answers to any eLearning and online training queries.
1. What Is An LMS?
An LMS is a software application for organizing, recording, monitoring, reporting, and providing learning over the internet. The software also offers instructors and training institutions a virtual school setting that learners can use to complete training courses.
2. What Is An LMS Privacy Overview?
A learning management system is a digital platform that helps organizations improve their training processes by providing a centralized space to keep track of their employees' progress and needs.
The learning management system includes the following:
– The data collection practices of the company that owns the platform
– How your data is stored and processed by the platform
– What information can you access via the platform
3. Who Needs An LMS?
If you are a corporate organization, health care, government agency, educational institution, or consulting firm that needs to train its employees, students, or other key personnel virtually need an LMS.
4. Why Should You Use An LMS?
It would be best to use an LMS simply because it optimizes your human resource management. For example, the top LMS platforms like Coggno LMS adapt to your and your employees' workflows, making it simple to educate and onboard new employees and interact effectively across many locations.
5. What Features To Look For In An LMS?
LMS features may vary from business to business. However, there are some standard features you can look for when choosing a platform, including tracking, reporting, customization, device compatibility, and technical support.
6. Which LMS Should You Pick?
That's a tricky question, but we have a simple answer—pick Coggno LMS. Our LMS meets all your requirements. You can book a demo and see how our LMS helps you build and manage to learn online.